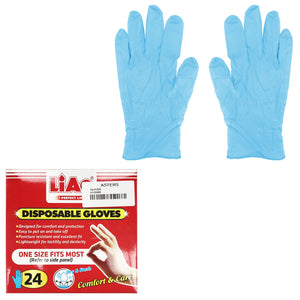 Disposable Gloves (24 PCs)
SKU:
43082
ONE SIZE FITS MOST 
Model no: H130055
Brand: LIAO
ALU: 6959125706851
Color: BLUE
Liao – Gloves
Disposable Gloves (24 Pieces)
Brand: Liao
Model: H130055
Color: Blue
Material: Latex-free nitrile with powder free
Features:
Dry & Fresh.
One size fits most.
Easy to put on and take off.
Puncture resistant and excellent fit.
Designed for comfort and protection.
Lighweight for tactibility and dexteriy.
Perfect for anywhere you might perform messy jobs.
Provide hand protection when tackling messy household chores.
Liao Disposable gloves are made from latex-free nitrile with powder free.
We Also Recommend