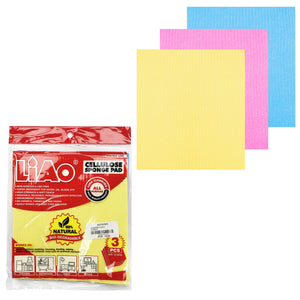 Cleaning Cloth (3 Pcs)
SKU:
43079
SPONGE 
Model no: G130048
Brand: LIAO
ALU: 6959125704130
Size: 18X20CM
Color: ASST
Liao – Cellulose Sponge Pad
Brand: Liao
Model: G130048
Color: Assorted Color
Size: 18 x 20cm (7.1" x 7.9")
Material: Sponge
Features:
3 Pieces per Pack.
Non-scratch & lint-free.
Super absorbent for water, oil, blood, etc…
High strength & Soft touch.
Washable, reusable, cost-effective.
Environment material.
No Harmful Chemicals and Dross.
Easily rinsed and used over and over.
Works on:

Used anywhere for washing, cleaning, dusting and wiping.
Clean nearly on all surfaces, even safe on precious surfaces.
We Also Recommend