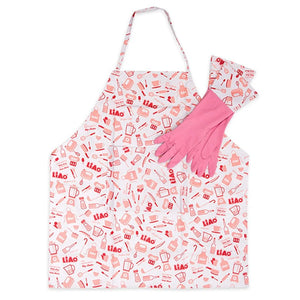 Apron & Gloves Set
SKU:
51242
LATEX 
Model no: H130025
Brand: LIAO
ALU: 6959125703942
Color: ASST

Liao – Apron & Gloves Set
Brand: Liao
Model: H130025
Color: Assorted Color
Material (Apron): Oxford Cloth
Material (Gloves): Nature Latex
Size of Apron (W x H): 36 x 72cm
Size of Gloves (Length): 39cm
Features:
Anti-pollution function.
Made of durable material.
Waterproof & Greaseproof
Easy to put on and take off.
Set Includes: Apron (x1) and Gloves (1 Pair).
Anti-skid grain in the palm of gloves provides good slip resistant performance.
Works on: Used for routine cleaning to protect clothes and hands from unwanted or dangerous substances.
We Also Recommend