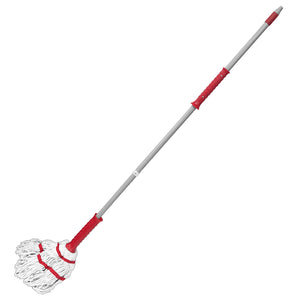 Twist Mop
SKU:
43084
COTTON 
Model no: A130074
Brand: LIAO
ALU: 6959125705915
Color: RED/GREY
Liao – Twist Mop
Brand: Liao
Model: A130074
Color: Red/Grey
Handle Length: 135cm (53.1")
Material: Cotton
Features:
Powerful Cleaning.
Keep hands clean.
Save time and save energy.
Twice as fast as an ordinary mop.
Twice as absorbent as a sponge mop.
Lift & Twist mechanism for easy wringing out water.
Sponge at bottom ensures the cleaned surfaces won't get scratched.
Replaceable mop refill: Soft material & super absorbent.
Works great on Damp or Dry:

Used damp: Remove grease, dirt and scuff marks.
Used dry: Attracts and retains dust, fluff and hair.
We Also Recommend