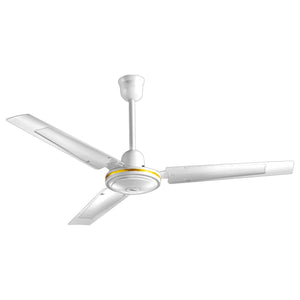 Ceiling Fan (Ø48")
SKU:
43936
CEILING FAN
Model no: FC-48
Brand: MIDEA
ALU: 6939924823713
Size: 48INCH
Color: WHITE

Midea (FC-48) Ceiling Fan, White
Brand: Midea
Model: FC-48
Color: White
Rated Power: 65W
Rated Voltage: 220V ~ 
Rated Frequency: 50Hz
No. of Blades: 3 (metal-type)
No. of Speed: 5 Speeds
Overall Diameter Size: Ø 48-inch
Warranty: 1-Year Warranty
Features:
Energy Saver.
5 Speed levels.
High quality copper motor.
Double safety security mechanism.
MIDEA decorative ceiling fan provides more than just a fan.
Fashionable design create a beautiful and cozy environment.
It produces larger air flow at a lower input power, which is uphold MIDEA's environment friendly theme.
We Also Recommend