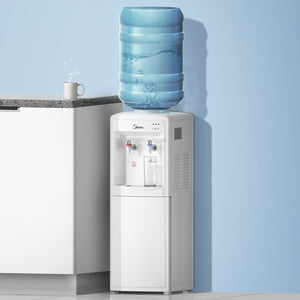 Water Dispenser
SKU:
53028
FRESSTANDING 
Model no: MYD718S-X
Brand: MIDEA
ALU: 54190
Color: WHITE
Midea – Water Dispenser
Freestanding
Brand: Midea
Model: MYD718S-X
Color: White
Water Bottle Capacity: 5 Gallon (19 Liter)
Rated Power: 500W
Heating Power: 420W
Rated Voltage: 220-240V~
Rated Frequency: 50/60Hz
Hot Water Capacity: 4L/h (≥85°C)
Cold Water Capacity: 0.5L/h (≤15°C)
Cooling Current: 1.0A
Heating Method: Internal Element
Cooling Method: Semi-Conductor
Warranty: 12 Months Warranty
Features:
With spacious cabinet.
Suitable for home use or office building.
Cold water tank, material – plastic.
Hot water tank, material – SUS304 stainless steel.
Drinking water dispenser with 2 taps (hot and cold).
Satisfy the need of tea & coffee and making drinking.
Dimension & Weight:
Width x Depth x Height
Product Dimension: 29.6 x 30 x 83cm (11.7" x 11.8" x 32.7")
Package Dimension: 35.5 x 35.5 x 90.5cm (14" x 14" x 35.6")
Net Weight: 5.8kg
Gross Weight: 7.2kg
Click here for User Manual
We Also Recommend