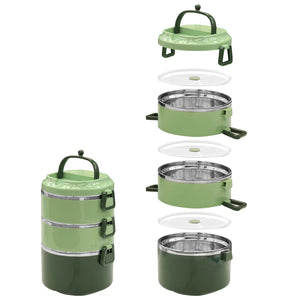 Tiffin Carrier
SKU:
49831
3 PARTS 
Model no: HL-5117
Brand: MR. HUOLANG
ALU: 6957090051174
Color: ASST
Size: 2.4 LITER

Mr. Huolang – Tiffin Carrier
3 Parts
Brand: Mr. Huolang
Model: HL-5117
Color: Assorted Color
Capacity: 2.4 Liter
Material: 304 Stainless Steel + Plastic
Dimension (W x D x H): 17 x 14.5 x 24.5cm (6.7" x 5.7" x 9.6")
Features:
Scientific stratification, food does not cross taste.
Safety stainless steel liner, it is more reassuring to eat.
Safety buckle on both side, the handle of the box cover is easy to carry.
The anti-overflow soup cover with rubber ring makes the seal more hygienic.
We Also Recommend