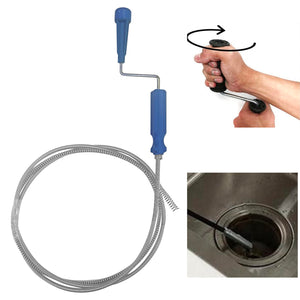 Dredging Tool (2m)
SKU:
53139
DRAIN CLOG REMOVER  
Model no: HL-1511
Brand: MR. HUOLANG
ALU: 6957090015114
Color: ASST
Size: 2M
Mr. Huolang – Dredging Tool
Clog Remover Spring Tool
Brand: Mr. Huolang
Model: HL-1511
Length size: 2 meters
Color: Blue/Silver
Material: Metal + Plastic
Features:
Solid, strong and durable steel thick spring.
No need to disassemble drain, no other tools needed.
Stainless steel dredging tool, cleaning clogging purpose.
Mainly removes hair, paper, fiber items, food clogs for fast water drain.
Widely used for cleaning bathroom tub, toilet, clogged drains, dredge pipe, sewers, sink, kitchen and other places clogged often.
We Also Recommend