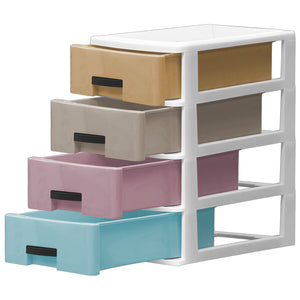 Drawer Cabinet
SKU:
46600
4 DRAWER (PLASTIC)
Model no: 352
Brand: MR. HUOLANG
ALU: 6925803103526
Color: ASST

Mr. Huolang – Drawer Cabinet
With 4 Drawer
Brand: Mr. Huolang
Model: No: 352
Color: Assorted Color
Material: Plastic
Dimensions (W x D x H): 24 x 32.5 x 39cm (11" x 14.2" x 20.5")
Features:
Durable Plastic.
Ideal for Home or Office.
Media, Craft, Stationery Storage.
Storage cabinet comes pre-assembled.
Modular design to complement your table.
Small and compact size allows for storage in previously unused corners and spaces.
We Also Recommend