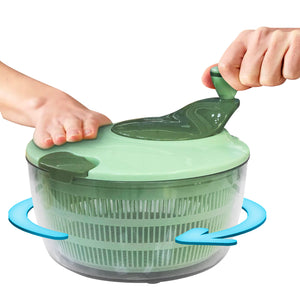 Salad Spinner
SKU:
53177
PLASTIC 
Model no: HL-3050
Brand: MR. HUOLANG 
ALU: 6957090030506
Color: GREEN
Mr. Huolang – Salad Spinner
Dehydration Tool
Brand: Mr. Huolang
Model: HL-3050
Color: Green
Material: PP + ABS + PS Plastic
Dimension (Dia. x H): 245 x 130mm (9.6" x 5.1")
Features:
Its built-in drainage system allows you to pour water without removing the lid.
Rotary handle is comfortable to grasp, making it easy to spin the basket to full speed with just a couple of turns.
Salad Spinner allows for washing vegetables, it is also made to dry your salad within seconds. Removable Basket can be used as a strainer. And the clear bowl is perfect when doubled as a serving bowl for herbs or berries.
We Also Recommend