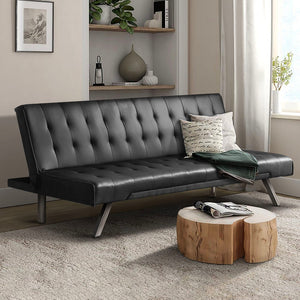 Sofa-Bed
SKU:
42440
3 SEATER (PVC)
Model no: ZY-289
Brand: HALWAY
ALU: 9456
Color: BLACK
Halway - Sofa Bed
3 Seater
Brand: Halway
Model:  ZY-289
Color: Black
Material: PVC
Features:
Multi position - Sofa bed can only be positioned in 2 angles: flat and upright.
This Sofa-bed is a superbly convenient option for crash space. And it is comfy to watch TV and read.
The backrest of sofa bed adjustment mechanism is very easy to use, so flipping it from a couch to a bed is a piece of cake.
This sofa bed is the perfect combination of comfort and style, made with durable PVC and Simple yet stylish look in a compact design.
Overall Dimensions:
Width x Depth x Height
Sofa
Centimeter (cm): W 180 x D 96 x H 72 cm
Inch ("): W 70.9" x D 37.8" x H 28.3"
Feet (') Inch ("): W 5'11" x D 3'2" x H 2'4"
Bed
Centimeter (cm): W 180 x D 96 x H 35 cm
Inch ("): W 70.9" x D 37.8" x H 13.8"
Feet (') Inch ("): W 5'11" x D 3'2" x H 1'2"
We Also Recommend