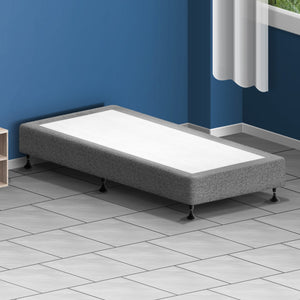 Single Divan Base
SKU:
44370
3 X 6.6 FT.
Model: 33100
Brand: SLEEMON
ALU: 20658
Size: 3X6.6 FEET
Color: DARK GREY/WHITE

Sleemon – Single Divan Bed Base
Brand: Sleemon
Model: 33100
Color: Dark Grey/White
Mattress Fit: 3 X 6.6 Feet
Features:
Single (3 x 6.6 ft.) Fabric wrapped wood box divan base only.
Single Divan base is designed to bring a soft and stylish look to your bedroom.
Designed to complement spring mattress or any mattress (3 X 6.6 ft. ONLY) of your choice.
Optional: With 2 Single Divan Bases (3 x 6.6ft.) makes King Size Base (6 x 6.6ft.).
Dimensions:
Thickness: 21cm
Feet (ft.): 3 x 6.6 Feet
Centimeter (cm): 90 x 200 cm
Inch ("): 35" X 79"
Click here for Suitable Mattress

We Also Recommend