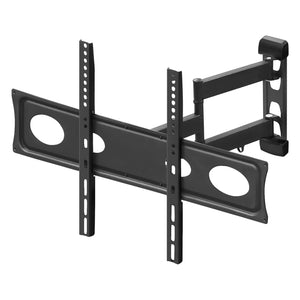 Wall Bracket (23" - 65")
SKU:
48633
TV WALL MOUNT 
Model no: FQ004-2
ALU: 111335
Color: BLACK
Size: 23" - 65"

TV Wall Bracket
Swivel Left-Right
Model: FQ004-2
Color: Black
Fit for TV: 23" – 65"
VESA: 600 x 400mm
Material: Cold Rolled Steel
Overall Dimension (W x H): 65.5 x 42cm (25.8" x 16.5")
Features:
Single-arm full motion.
Made of steel for reliable strength.
Adjustable VESA ranges 600 X 400mm.
Sturdy construction ensures your TV is safe.
Easy to extend, retract and left-right swivel in any directions.
Extended arm offers wide-angle optimum viewing position.
TV wall mount accommodates 23 to 65-inch TVs for enhanced home TV-viewing experience.
We Also Recommend