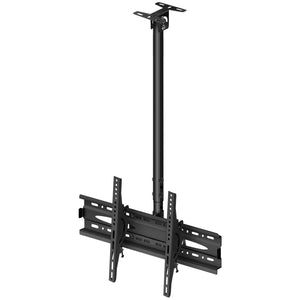 Ceiling & Wall Bracket (32" - 70")
SKU:
48634
TV MOUNT 
Model no: FQ008
ALU: 111336
Color: BLACK
TV Ceiling Bracket
Ceiling, Sloped & Wall TV Bracket
Model: FQ008
Color: Black
Fit for TV: 32" – 70"
VESA: 600 x 400mm
Material: Cold Rolled Steel
Telescopic Height: Approx. 32" – 61"
Overall Dimension (W x H): 67.5 x 43cm (26.6" x 16.9")
Features:
Made of steel for reliable strength.
Adjustable VESA ranges 600 X 400mm.
Sturdy construction ensures your TV is safe.
Heavy-duty steel construction with powder coating.
TV wall mount accommodates 32 to 70-inch TVs for enhanced home TV-viewing experience.
Internal cable management keeps your cords concealed and organized to give a professional look to the installation.
Suits flat and sloped ceilings: This TV mount accommodates both ceiling & Wall types: You can adjust the ceiling plate +/- 60° to work with sloped and level (flat) surfaces.
With a telescopic pole, the TV mount lets you suspend a display at your desired distance from the ceiling between approx. 32" to 61".
We Also Recommend