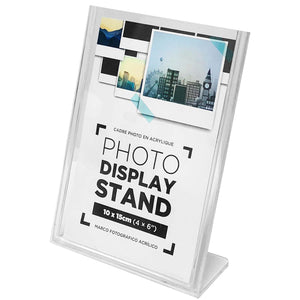 Display Stand (10 x 15cm)
SKU:
43252
VERTICAL (PLASTIC)
Model no: GF0168
Brand: UBL
ALU: 9333527507075
Size: 10X15CM
Color: CLEAR
UBL – Photo Display Stand
Brand: UBL
Model: GF0168
Color: Clear
Material: Plastic
Picture Fit Size: 10 x 15cm (4" X 6")
Overall Dimension (W x H): 11.5 x 16cm (4.5" x 6.3")
Features:
Self-standing and innovatively designed, the UBL Holder is the ideal frame for images, brochures, and advertising pamphlets.
It displays pictures and posters efficiently, and stands on its own without difficulty thanks to its solid-back base.
The product is made of high quality transparent plastic material
This holder has a lengthier back to secure your pictures or documents in place
It is easy to change out inserts and wipe clean.
We Also Recommend