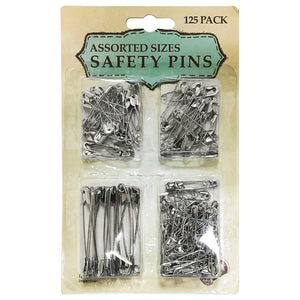 Safety Pin (125 PCs)
SKU:
43278
ASSORTED SIZES 
Model no: QH0017
Brand: UBL
ALU: 8409730018774
Color: SILVER

UBL – Safety Pins
125 Pieces
Brand: UBL
Model: QH0017
Color: Silver
Length Size: 5.3cm, 3.5cm, 3cm, 2.5cm
Material: Metal
Features:
The Safety pins can be applied in many items, such as clothes, quilting, blankets and crafts or dangle charms to make personalized brooch pins or use the pins to hold a flyaway sweater, a scarf.
Made with high quality and durable metal.
When you pop a button, no worries just slip one out of your clothing and pin your blouse shut.
The end of the pin keeps the pins locked and cover the sharp end to protect your fingers from accidents.
We Also Recommend