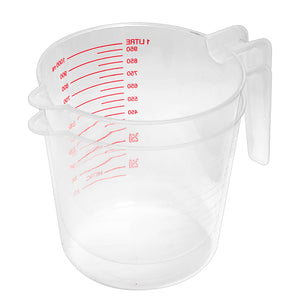 Measuring Cup (2 PCs)
SKU:
43270
PLASTIC 
Model no: KA0187
Brand: UBL
ALU: 9333527144768
Color: CLEAR
UBL – Measuring Cup
2 Pieces
Brand: UBL
Model: KA0187
Capacity: 1 Liter
Color: Clear
Material: Plastic
Feature:
Measurable plastic case with clear measurement line, capacity up to 1000ml.
Set of two plastic cases measuring volume made from high quality plastic, absolutely safe for users' health.
Plastic case has clear measurement lines, with different capacities ranging from 200ml to 1000ml, helping you measure the amount of water exactly as you want.
We Also Recommend