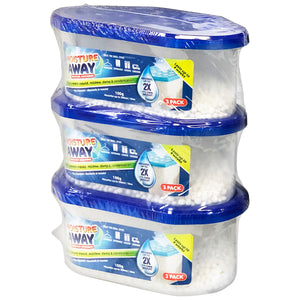 Closet Dehumidifier, 3 PCs (300ml)
SKU:
51897
INTERIOR (UNSCENTED) 
Model no: BA3633
Brand: UBL
ALU: 9333527687296
Size: 300ML
UBL – Closet Dehumidifier
Interior Dehumidifier (unscented)
Brand: UBL
Model: BA3633
Capacity (each): 300ml (10 oz.)
Features:
Each lasts up to 4 weeks.
Absorbs up to its own weight 2x.
Suitable for inside wardrobe, inside lockers, inside cupboards, inside caravans, etc…
The box has excellent moisture absorption, removes mold, and keeps your clothes dry and clean.
Interior Dehumidifier with a capacity of 300ml helps prevent mold, mildew, damp and condensation.
We Also Recommend