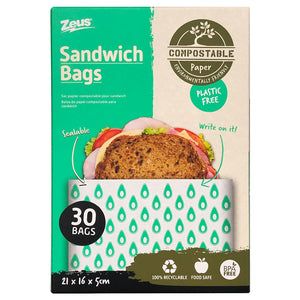 Sandwich Bag (30 PCs)
SKU:
46438
COMPOSTABLE PAPER
Model no: BC0559
Brand: UBL
ALU: 9333527579850

UBL – Sandwich Bag
30 Pieces
Brand: UBL
Model: BC0559
Bag Size (Each): 21 x 16 x 5cm
Material: Compostable paper
Features:
BPA Free.
Plastic Free.
Keeps food fresh.
100% Recyclable.
Environmental Friendly.
Great for lunches, and snacks.
Moisture and grease resistant.
Disposable bag that won't cost the earth.
Sealing bag design helps to keep the food stable from falling out of the bag, making it easy to carry and save the flavor of the dish.
We Also Recommend