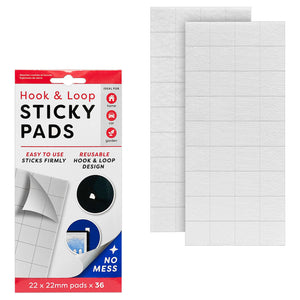 Velcro Tape, 36 PCs (22 x 22mm)
SKU:
49129
STICKY PADS 
Model no: QH0175
Brand: UBL
ALU: 9333527472434
Color: WHITE
UBL – Velcro Tape
Hook & Loop, Sticky Pads (36 Pieces)
Brand: UBL
Model: QH0175
Color: White
Size (Each): 2.2 x 2.2cm
Features:
Easy to use, Sticks firmly.
Re-Usable, Hook & Loop design.
Stronger adhesive and longer lasting.
These squares are perfect for smooth surfaces.
Great for school projects, office use, organizing things at home.
We Also Recommend