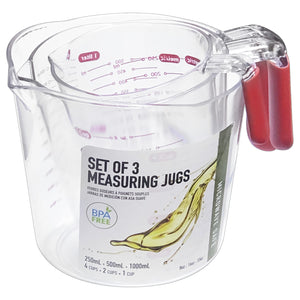 Measuring Cup (3 PCs)
SKU:
46290
PLASTIC 
Model no: KC0457
Brand: UBL
ALU: 9333527484772
Color: CLEAR
UBL – Measuring Cup
3 Pieces
Brand: UBL
Model: KC0457
Color: Clear
Capacity: 1000ml, 500ml & 250ml
Material: Plastic
Features:
Microwave Safe.
Convenient handle.
Made of premium plastic that is BPA free.
Measurable plastic case with clear measurement line, capacity up to 1000ml.
Plastic case has clear measurement lines, with different capacities ranging from 1000ml to 50ml, helping you measure the amount of water exactly as you want.
We Also Recommend