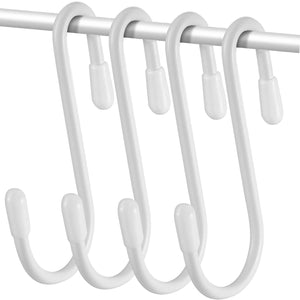 Hook (4 PCs)
SKU:
43323
METAL 
Model no: BL0094
Brand: UBL
ALU: 9333527038050
Color: WHITE
UBL – Hook
S-Shaped Hooks (4 Pieces)
Brand: UBL
Model: BL0094
Assorted Sizes: 2
Large: 11cm height
Small: 7.5cm height
Color: White
Material: Metal
Features:
Convenient smart design for convenience.
S-Shaped Metal Hook: Useful and more flexible with S-shaped hook
It's made of sturdy, durable metal, soft plastic exterior, which prevents rusting and does not damage clothes.
Products are shaped S-shaped with reasonable curvature, you can easily hook into the door, shelf ... or move anywhere you want, helping to save the maximum space.
Note: We have a 2 assortment of a sizes, and if you have preference, you can send us a message or visit our shop for more details.
Click here for - Contact Details
We Also Recommend