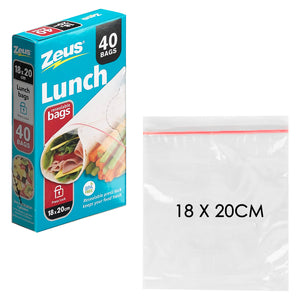 Ziplock Bag (40 PCs)
SKU:
49134
ZIPPER BAG (PLASTIC) 
Model: BC0035
Brand: UBL
ALU: 9333527005595
Size: 18X20CM
Color: CLEAR

UBL – Ziplock Bag
Re-Sealable Bag (40 Pieces)
Brand: UBL
Model: BC0035
Color: Clear
Size: 18 x 20cm (7.1" x 7.9")
Material: Plastic
Features:
BPA-free.
Convenient zipper pocket design, easy to open and close.
The bag is made of materials that are safe for food storage.
The box includes 40 plastic bags with the size of each bag 18 x 20cm.
We Also Recommend