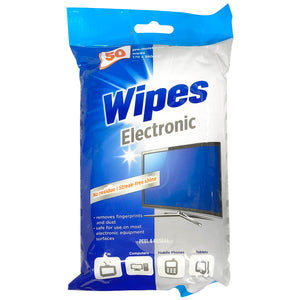 Electronic Wipes (50 PCs)
SKU:
46424
PRE-MOISTENED
Model no: BC0402
Brand: UBL
ALU: 9333527377180
Color: WHITE

UBL - Electronic Wipes
50 Pieces
Brand: UBL
Model: BC0402
No. of Sheets: 50 Sheets
Size (Each Sheet): 170 x 250mm (7" x 10")
Features:
No Residue.
Streak-free shine.
Removes fingerprints and dust.
Re-seal pouch to retain moisture.
Safe for use on most electronic equipment surfaces.
Great for TVs, Computers, Mobile Phones, Tablets etc....
We Also Recommend