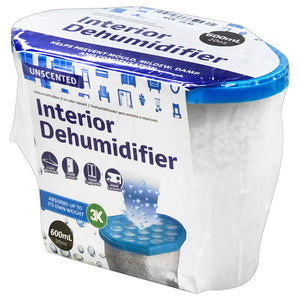 Closet Dehumidifier (600ml)
SKU:
46413
INTERIOR (SCENTED) 
Model no: BA0391
Brand: UBL
ALU: 9333527169723
Size: 600ML
UBL – Closet Dehumidifier
Interior Dehumidifier (unscented)
Brand: UBL
Model: BA0391
Capacity: 600ml (20 oz.)
Features:
Absorbs up to its own weight 3x.
Suitable for inside wardrobe, inside lockers, inside cupboards, inside caravans, etc…
Interior Dehumidifier with a capacity of 600ml helps prevent mold, mildew, damp and condensation.
We Also Recommend