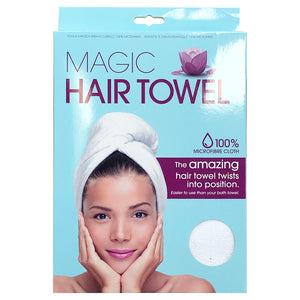 Hair Towel (22 x 60cm)
SKU:
46332
MICROFIBER 
Model: AG0064
Brand: UBL
ALU: 9333527006035
Color: ASST

UBL - Towel
Hair Towel
Brand: UBL
Model: AG0064
Size: 60 x 22cm (23.6" x 8.7")
Color: Assorted Color
Material: Microfiber
Features:
The unique non-slip twist and loop system stays in place.
The extraordinary new hair wrap that you slip over wet hair... the twist, loop and it's there to stay!
Hair Wrap's tapered design allows a perfect fit on your head, and it's lightweight, not bulky like a towel.
Hair wrap is attractive, functional, and so comfortable that using towels to wrap your hair becomes obsolete.
We Also Recommend