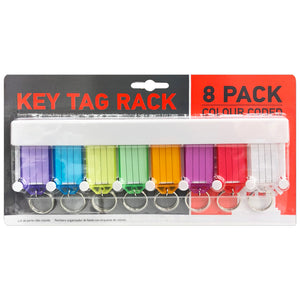 Key Tag (8 PCs)
SKU:
48949
WITH KEY TAG HOLDER 
Model no: AL0016
Brand: UBL
ALU: 9333527280626
Color: ASST
UBL – Key Tag
8 Keys Tags with Holder
Brand: UBL
Model: AL0016
Color: Assorted Color
Material: Plastic + Steel
Key Tag Holder Dimension: 26.5 x 1.5 x 7cm (10.4" x 0.6" x 2.8")
Features:
Compact, convenient, smart and easy-to-use design.
Key chains with hook heads are made from high-quality steel.
Keep track of your keys quickly and easily with brightly colored replacement key tags.
The nameplate side is bright and transparent, making it easy to read the notes inside the nametag.
With label, it helps you easily distinguish the lock from which key to quickly open the necessary door.
We Also Recommend