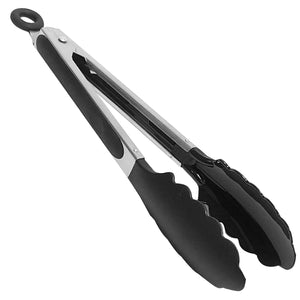 Tongs (9")
SKU:
43349
STAINLESS STEEL + NYLON 
Model no: KA0311
Brand: UBL
ALU: 9333527280572
Size: 9INCH
Color: BLACK/SILVER
UBL – Tongs
Brand: UBL
Model: KA0311
Color: Black/Silver
Size: 24cm (9")
Material: Stainless Steel + Nylon
Features:
Easy to use and safe with dishwasher.
Easy to clean grease, butter on tools after use.
Anti-stick, anti-slip, anti-corrosion or rust, odorless and hygienic.
The handle part has a strong stainless steel core and the outer layer of nylon helps to insulate against burns, ensuring the rigidity when holding and picking up food.
We Also Recommend