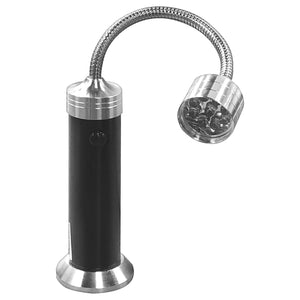 BBQ LED Light
SKU:
49639
BBQ LED LAMP WITH MAGNETIC BASE 
Model: OB0408
Brand: UBL
ALU: 9333527648747

UBL – LED Light
BBQ LED Lamp with Magnetic Base
Brand: UBL
Model: OB0408
Color: Black/Silver
Material: Steel
Battery Type: 3x AAA Batteries (not included) 
Dimension (Dia. x Overall H): 38 x 250mm
Features:
9 LED Lights.
Use as a portable light.
Lights up entire cooking area.
Provides bright light for camping
Magnetic base secures firmly to BBQ grill in any position.
Flexible adjusts 360° to beam light exactly where you need it.
Provides super bright light for working in any position vertically or horizontally.
We Also Recommend