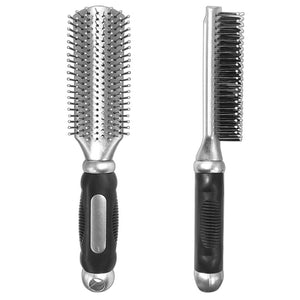 Hair Brush
SKU:
43261
CHROME FINISH
Model no: AH0070
Brand: UBL
ALU: 9333527006103
Color: ASST
UBL – Hair Brush
Hair Brush Chrome Finish
Brand: UBL
Model: AH0070
Color: Assorted Color
Size: Comb 22-22.5cm. 
Weight: 85-95G / piece
Feature:
Many different models of combs for different types of hair.
Teeth comb soft, effective massage head when brushing. 
The comb is suitable for both straight and curly hair.
Composition: Synthetic resin. 
High quality plastic, does not scratch, hurt, and irritate the scalp.
We Also Recommend