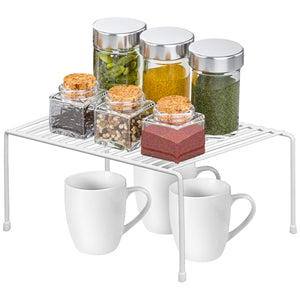 Pantry Shelf Organiser
SKU:
46284
METAL 
Model no: KS0172
Brand: UBL
ALU: 9333527241719
Color: WHITE

UBL – Kitchen Organizer
Pantry Shelf
Brand: UBL
Model: KS0172
Color: White
Material: Metal
Dimension (W x D x H): 34 x 22 x 15cm (13.4" x 8.7" x 5.9")
Features:
Organize your kitchen countertop, cupboard or pantry.
With a compact and convenient design, the storage shelf helps to organize the objects in a neat and tidy way.
Sturdy design, can hold many items. In addition, you can also use the space below the shelf to store some other items.
We Also Recommend