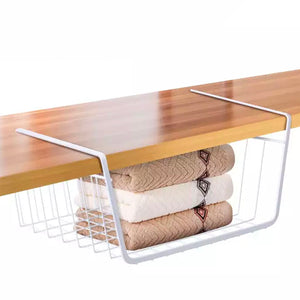 Under Shelf Basket
SKU:
46317
METAL
Model no: HL-BH0677
Brand: UBL
ALU: 9333527583000
Color: WHITE
UBL – Under Shelf Basket
Brand: UBL
Model: BH0677
Color: White
Material: Metal
Dimension (W x D x H): 41 x 25 x 14cm (16.1" x 9.8" x 5.5")
Features:
This convenient storage basket easily slides under shelves to provide additional storage for fruit vegetables, paperwork, toiletries and more.
Perfect for storing napkins, dish towels, books, magazines, newspapers and much more.
Suitable for wardrobes, kitchen cabinets, lockers, refrigerators and anywhere you can link to.
It can be hung up or just placed on flat surfaces without any additional fixed.
We Also Recommend