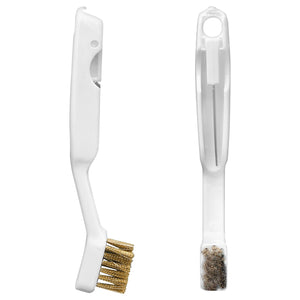 Stove Scrubber Brush (2-in-1)
SKU:
49644
PLASTIC + STEEL 
Model no: BB0219
Brand: UBL
ALU: 9333527658791
Color: WHITE
UBL – Scrubber Brush
Stove Cleaning Brush with Scraper (2-in-1)
Brand: UBL
Model: BB0219
Color: White
Material: Plastic + Steel
Features:
Ideal for cleaning gas cookers.
Brass bristles great for scrubbing away stubborn residue.
Fold-out scrapper knife gets into hard to reach places helping to remove grease, grime and food build-up.
We Also Recommend