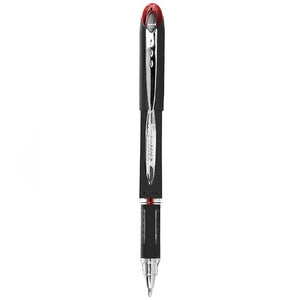 Roller Ball Pen
SKU:
1371
JETSTREAM (1.0MM) 
Model no: SX-210
Brand: UNI
ALU: 4902778753293
Size: 1.0MM
Color: RED
Uni (SX-210) Jetstream 1.0mm Roller Ball Pen
Brand: Uni
Model: SX-210
Color: Red
Tip: 1.0mm
Tip Type: Ball
Ink Type: Liquid Ink, Waterproof Ink
Features:
The Uni Jetstream SX-210 rollerball pen combines the ultra-smooth writing features found in a rollerball with Uni-Ball's unique fast drying UNI Super Ink to produce the ultimate pen.
This pen is a particular favourite of left handed writers as the quick drying qualities prevent smearing by the user's hand.
It has a 1.0mm ball that writes a 0.45mm line. This model has a snap on cap to prevent leakage and is refillable using SXR-C1 refills.
UNI Super ink also has the advantage of being waterproof and fade-resistant.
We Also Recommend