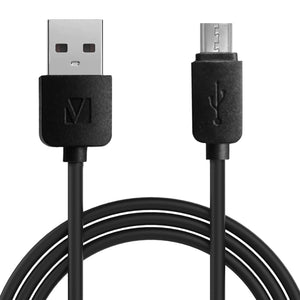 USB Cable (4 Feet)
SKU:
40426
USB TYPE A TO MICRO
Model no: 65277
Brand: VERBATIM 
ALU: 6943760252774
Size: 120CM
Color: BLACK
Verbatim – Micro USB Cable
Brand: Verbatim
Model: 65277
Color: Black
Length: 4 Feet / 120CM
Features:
Beautifully designed, the Verbatim Sync & Charge microUSB Cable transfers files to and from your microUSB device, such as Android smartphones or tablets, and any PC with a USB port while simultaneously charging your device, eliminating charging downtime.
This cable is also great for charging other microUSB devices, such as e-Readers, Bluetooth headsets, and Bluetooth Speakers. Made from high-grade materials, the cable itself is durable and tangle-free.
Compatible with all micro-USB interface smart phones and tablets.
Supports both power charging and data transfer.
Durable cable with PVC material.
We Also Recommend