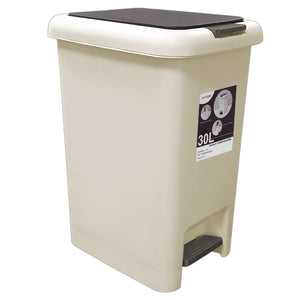 Dustbin (30L)
SKU:
44652
PLASTIC PEDAL BIN SQUARE 
Model no: XDL-30T-14
Brand: XDPC
ALU: 20849
Size: 30LTR
Color: IVORY
XDPC - 30LTR Dustbin
Brand: XDPC
Model: XDL-30T-14
Capacity: 30 Liter
Color: Ivory
Material: PP
Dimension (W x D x H): 29.5 x 39.3 x 50cm (11.6" x 15.5" x 19.7")
Features:
Pedal & flip design - 2 different way to throw daily litter into this dustbin, pressing the top button or stepping on pedal as you like, very convenient and prevent the smells from passing up into the air effectively.
Application - its simple style can fit various home styles very well, perfect for kitchen, living room, bathroom or office, etc.
Quality material - made of quality PP material in fine workmanship that is solid and durable.
Features - with rounded corners is burr-free, wont hurt hands when you change garbage bags. Also keep clean and tidy.
We Also Recommend