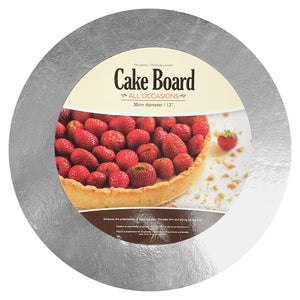 Cake Board (Ø30cm)
SKU:
46409
ROUND 
Model no: KT0073
Brand: UBL
ALU: 9333527115386
Color: SILVER
Size: 30CM

UBL - Cake Board
Round-Shaped Board
Brand: UBL
Model: KT0073
Color: Silver
Diameter Size: 30cm (12")
Thickness: 0.4cm
Material: Silver Foil Paper
Features: 
Provides firm and strong serving tray. 
The base can be easily cleaned after use.
Enhances the presentation of cakes and pies.
Inside is a sturdy cardboard, creating a firmness.
We Also Recommend