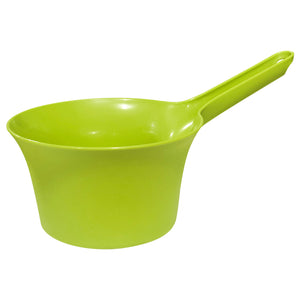 Water Dipper
SKU:
50855
PLASTIC 
Model no: 1905
Brand: CHAHUA
ALU: 6921489000906
Color: ASST
Chahua – Water Dipper
Water Ladle
Brand: Chahua
Model: 1905
Color: Assorted Color
Material: PP Plastic
Dimension (W x D x H): 18 x 30.7 x 14.2cm (7.1" x 12.1" x 5.6")
Features:
Smooth texture.
Made of Pure PP material, it is safe and durable.
Long handle makes it easy to grip and convenient to dip water.
Great for kitchen use in adding water, cleaning veggies & fruits.
Nice for Bathroom use in rinsing hair & body or bathing and also nice for watering plants.
We Also Recommend