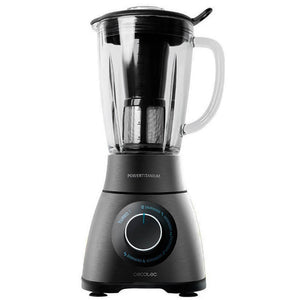 Blender (1.8L)
SKU:
47988
BLACK TITANIUM 1500 PERFECTMIX (1500W) 
Model no: 4141
Brand: CECOTEC
ALU: 8435484041416
Size: 1.8L
Color: BLACK
Cecotec – Blender
Power Black Titanium 1500 PerfectMix
Brand: Cecotec
Model: 4141
Color: Black
Capacity: 1.8L
No. of Blades: 8
RPM: 23000rpm
No. of Speeds: 5 Speeds + Turbo
Rated Power: 1500W
Rated Voltage: 220-240V~
Rated Frequency: 50/60Hz
Accessory: Pulp-free liquefied filter
Warranty: 12 Months Warranty
Features:
Jar suitable for cleaning in the dishwasher.
It has 5 speeds to adapt to the needs of all foods.
Easily removable blades for a more comfortable cleaning.
Non-slip base with Immobile design with suction cups for better control.
Metaluxe gear that increases durability and makes the most of effective power.
Lid with hermetic closure and dosing cap to introduce ingredients during operation.
Security Check System: system that ensures operation only if the glass is properly positioned.
Turbo function, which grinds and pulverizes even the hardest foods at maximum speed. Ice pick.
High-strength fused glass heat resistant jug with 1.8 liter capacity. Suitable for hot and cold preparations.
Cup blender with stainless steel finishes. Get optimal shredding thanks to its 1500 W of power and 23000 rpm speed.
Includes filter for smoothies without pulp, ideal for obtaining quality juices, with the best textures and flavors but without a trace of pulp.
8-blade knife designed to generate a constant movement of the food and guarantee fine and homogeneous results in a short time.
The blades have a black titanium coating, increasing their resistance and keeping the steel sharp for longer to achieve a perfect cut and grind.
We Also Recommend