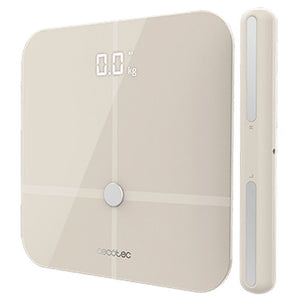 Bathroom Scale
SKU:
47983
DIGITAL SURFACE PRECISION 10600
Model no: 4264
Brand: CECOTEC
ALU: 8435484042642
Color: BEIGE
Cecotec – Bathroom Scale
Surface Precision 10600 Smart Healthy Pro Beige
Brand: Cecotec
Model: 4264
Color: Beige
Scale Platform: High Security Tempered Glass Platform
Screen: Backlit LCD
Loading Capacity: 180kg
Dimension (W x D x H): 30 x 30 x 2.7cm (11.8" x 11.8" x 1.1")
Warranty: 12 Months Warranty
Features:
Button to switch from Kg to Lb.
Auto shut-off after 3 seconds of no use.
Measuring by body parts for more precise and reliable results.
Designed with extra-flat safety tempered glass and ITO technology.
Wide measuring range, from 6 kg to 180 kg, with a 100-gr precision.
Its 8 high-precision sensors allow more precise and exact measuring.
Includes measuring tape for an easy and simple body volume control.
SafeGrip. Includes 4 support feet that improve floor grip and add security.
Handrail with high-precision sensors, for a specific and precise tracking which results in more accurate and reliable data.
SmartBlue: Smartphone connectivity through Bluetooth 4.0, for a more precise tracking of the measured parameters via App.
TenBIA: Bioelectrical impedance measuring method (BIA) with full body analysis, and precise measuring with 15 basic parameters.
Easy Usability multifunction. Easy usability thanks to the auto shut-off function, the fast and simple power-on and its overload indicator.
We Also Recommend