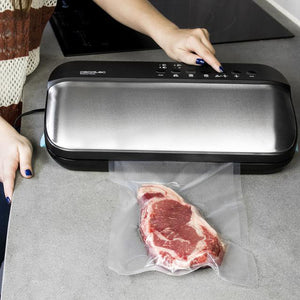 Vacuum Sealer Machine
SKU:
52190
120W SEALVAC STEEL 
Model no: 4070
Brand: CECOTEC
ALU: 8435484040709
Color: BLACK/GREY
Cecotec – Vacuum Sealer Machine
SealVac Steel
Brand: Cecotec
Model: 4070
Color: Black/Grey
Rated Power: 120W
Sealing Length: up to 30cm (11.8")
Suction Speed: 24 Liter / min
Vacuum Pressure: 95 kPa (0.9 bar)
Integrated folding cutter: Yes
No. of operating modes: 4 (wet, dry, resistant and delicate)
Supports Generic Bags: Yes (no worry about getting any specific one)
Includes:
Bags of 20 x 30cm – x5
Embossed roll of 20 x 200cm – x1
Intake and tube for generic jars and cans – x1
Dimension (W x D x H): 40 x 22 x 10cm (15.7" x 8.7" x 3.9")
Warranty: 12 Months Warranty
Features:
120 watts of power.
Quieter packaging system.
Light indicators of operation.
Supports universal generic bags.
Suction speed of 24 liters / minute.
Wide, easy-to-clean sealing surface.
Elegant design, professional quality.
With Stop button to interrupt the process.
Total vacuum function and automatic sealing.
Independent sealing function for packing liquids.
Includes intake and tube to use universal generic jars and cans.
Large format packaging machine, sealing length from 0 to 30 cm.
Includes 5 bags of 20 x 30 cm and an embossed roll of 20 x 200 cm.
Suitable for vacuum canisters, ziplock bags, bottle caps and other accessories.
Engine with vacuum pressure of more than 0.9 bar (approx. 95 kPa), equivalent to 712 mmHg.
Vacuum food sealer that empties and seals to keep ingredients and prepared foods fresh up to 5 times longer.
It includes a dispenser compartment for the roll and an integrated folding cutter to cut the rolls to the desired size.
It includes a marinate function, specially programmed to use vacuum cycles and thus achieve intense flavors in a short time.
4 automatic operating modes that can be combined to adapt to all foods, configurable between wet or dry and resistant or delicate.
We Also Recommend