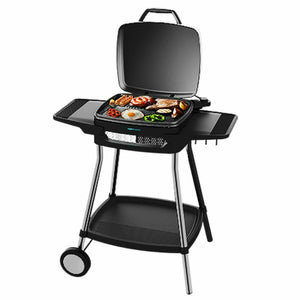 Griller
SKU:
50616
2000W PERFECTCOUNTRY 2000 EASYMOVE 
Model no: 3113
Brand: CECOTEC
ALU: 8435484031134
Color: BLACK
Cecotec – Griller
PerfectCountry 2000 EasyMove
Brand: Cecotec
Model: 3113
Color: Black
Rated Power: 2000W
Non-Stick: Yes
Grease Tray: Yes
Side supports: Yes
Adjustable thermostat: 5 power levels
Cooking Surface: 43 x 38cm (16.9" x 15")
Warranty: 12 Months Warranty
Features:
Lower support to increase the work surface.
Indicator light for operation and temperature reached.
Resistant steel legs to ensure good stability for the barbecue.
Cool touch handle on the lid for a secure and comfortable grip.
Large 43 x 38 cm cooking surface to cook a wide variety of foods at the same time.
Mixed grill and griddle surface for cooking meats, vegetables, fried eggs, seafood or fish.
Enjoy easy cleaning thanks to its easily removable plate, which is suitable for cleaning in the dishwasher.
A grease tray for more comfortable and clean use. In addition, it is suitable for cleaning in the dishwasher.
High quality flip top lid that emits heat evenly. It works in the same way as a convection oven, food is cooked evenly.
It has a cast aluminum plate with non-stick coating on which you can cook comfortably since it prevents food from sticking.
The upper part of the body and the lid are detachable from the base, which makes it possible to cook directly at the table.
Electric barbecue with PowerGrill technology and built-in resistance to improve heat distribution and take full advantage of the power.
Adjustable thermostat with 5 power levels to obtain perfect cooking for everyone. Uniform heat distribution over the entire grill surface.
Two side supports and wheels are included. More comfortable to use because you can support and store your food and accessories, while making it easier to transport.
Click here for User Manual
We Also Recommend