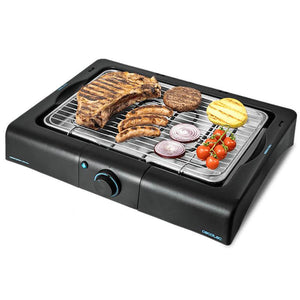 Griller
SKU:
44613
ELECTRIC PERFECTSTEAK (2400W) 
Model no: 3048
Brand: CECOTEC
ALU: 8435484030489
Color: BLACK
Cecotec – Griller
Electric PerfectSteak 4200 Way
Brand: Cecotec
Model: 3048
Color: Black
Rated Power: 2400W
Rated Voltage: 220 - 240V
Rated Frequency: 50 - 60Hz
Grill Material: Stainless Steel
Adjustable Height: 3 Levels
Detachable Grill: Yes
On / Off Indicator Light: yes
Safety microswitch: Yes
Dimensions: W 530 x D 380 x H 95mm
Warranty: 12 Months Warranty
Features:
Stainless-steel grill.
Black-enameled housing.
On and off light indicator.
Electric indoor barbecue, 2400 W.
Grill's height adjustable to 3 levels.
Detachable tray for an easier cleaning.
Safety microswitch that prevents the barbecue from operating if it is not completely assembled.
We Also Recommend