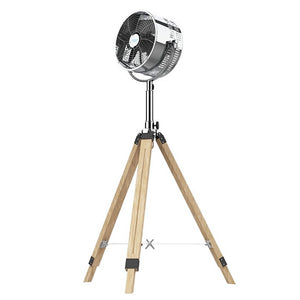 Stand Fan (Ø12")
SKU:
46130
TRIPOD (80W) 1200 WOODY
Model no: 5286
Brand: CECOTEC
ALU: 8435484052863
Color: SILVER/BROWN

Cecotec – Stand Fan
EnergySilence 1200 Woody
Brand: Cecotec
Model: 5286
Color: Silver/Brown
Fan Diameter: 30cm (11.8")
Rated Power: 80W
Remote Control: No
Tilt: 80º
Motor: Copper
No. of Fan Blades: 3 Blades
Tripod Material: Wooden
Adjustable height: 121-140cm (47.6" - 55.1")
Warranty: 12 Months Warranty
Features:
80º tilt for a total air direction control.
100 % copper motor which provides it with great quality, durability and power.
Its diameter of 12" (30 cm) result in great fresh air flows and perfect ventilation.
The fan offers 3 different fan speeds, to adapt power and air flow to each moment's needs.
Its elegant wooden tripod allows placing the fan in any room, even as a decorative element.
Powerful fan with wooden tripod, 80 W to instantly ventilate the room where it is located.
The fan has 3 blades designed with perfect aerodynamics, for excellent air distribution during ventilation.
Adjustable height to adapt air direction to the room where it is located, living room, kitchen or room.
We Also Recommend