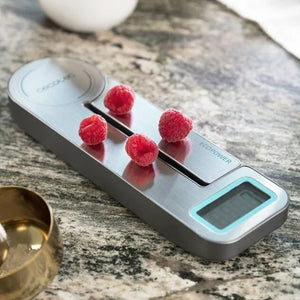 Kitchen Scale
SKU:
50662
COOK CONTROL 10100 ECOPOWER
Model no: 4142
Brand: CECOTEC
ALU: 8435484041423
Color: GREY

Cecotec – Kitchen Scale
Cook Control 10100 EcoPower Compact
Brand: Cecotec
Model: 4142
Color: Grey
Max. Capacity: Up to 5kg
Precision: 1g
No. of Sensors: 4
Tare function: Yes
Battery: No Need
Platform Material: Stainless steel
Warranty: 12 Months Warranty
Features:
Maximum capacity of 5 kg with precision of 1 g.
It has a tare function to take different measurements simultaneously.
Battery status warning that allows you to control the real state of the charge at all times.
Large LCD screen for a better visualization of the quantities during the measurement process.
Instant switch between gram and pound measurements to tailor measurements to any recipe.
It includes a function for measuring solids and liquids immediately and easily, at the touch of a button.
Four Precision. Thanks to its 4 high-precision sensors, it allows more precise and accurate measurements.
Its compact and foldable design with perfect finishes in high-quality stainless steel make it resistant and perfect for any kitchen.
Just open the scale to start using it, without the need for batteries, and thanks to the finish and design, it is easy to use, clean and store.
It does not need batteries, it is enough to open and close the scale to automatically generate the electrical energy it requires to work, being more respectful with the environment.
Click here for User Manual
We Also Recommend