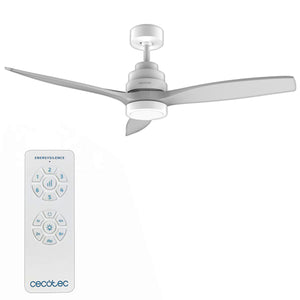 Ceiling Fan (Ø52")
SKU:
52119
3 BLADE WITH LIGHT & REMOTE CONTROL
Model no: 5976
Brand: CECOTEC
ALU: 8435484059763
Size: 52INCH
Color: WHITE/GREY

Cecotec – Ceiling Fan
EnergySilence Aero 5200
Brand: Cecotec
Model: 5976
Color: White/Grey
Diameter Size: Ø132cm (Ø52")
Rated Power: 40W
No. of Blades: 3 (wood-type)
No. of Speeds: 6
Lamp: Yes
Motor: Copper
Timer: up to 8 hours
Remote Control: Yes
Warranty: 12 Months Warranty
Features:
You can choose from 6 speeds to set the intensity of the air circulation as you wish.
The timer allows you to select an operation for up to 8 hours, after which the fan will be turned off.
Convenient and simple operation thanks to the remote control, on which you can select the operation of the fan.
The DC motor improves the performance of the fan, making it more efficient and consuming less electricity. In addition, it works silently.
High power 40W, with a powerful copper motor that increases air circulation and the feeling of freshness, with maximum reliability and durability.
The fan has an integrated LED lamp that makes it a practical hybrid device. Provide perfect light and atmosphere in your home in the most efficient and affordable way.
Large 52 inch (132 cm) diameter increases the distribution of fresh air in the room. System formed by 3 completely innovative and aerodynamic fan blades, designed to maximize air circulation and ensure a constant flow of fresh air.
The fan has a motor reversing system to perform the summer/winter function. A switch is used to select the direction of rotation of the fan blades, in the summer in one direction to generate a pleasant breeze and in the winter in the other direction to blow the warm air concentrated in the ceiling onto the floor, perfect for your to complete the heating system. Operate it with the remote control.
We Also Recommend