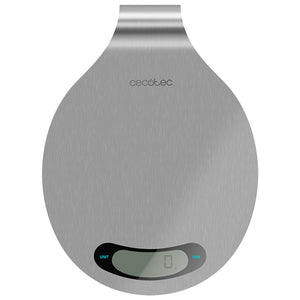 Kitchen Scale
SKU:
48048
DIGITAL COOK CONTROL 10400 EASYHANG 
Model no: 4179
Brand: CECOTEC
ALU: 8435484041799
Color: SILVER

Cecotec – Kitchen Scale
Cook Control 10400 EasyHang
Brand: Cecotec
Model: 4179
Color: Silver
Max. Capacity: Up to 8kg
Precision: 1g
No. of Sensors: 4
Tare function: Yes
Battery Type: AAA x3
Platform Material: Stainless steel
Warranty: 12 Months Warranty
Features:
Maximum load capacity of up to 8 kg.
Easy to use, with low battery indicator.
Extra-flat design that makes it perfect for al kitchens.
1-gram precision that allows extremely precise measuring.
Designed with a useful hanging handle, perfect to have always at hand.
Includes 4 maximum precision sensors, for greater measuring accuracy.
Large LCD display with big numbers for easy viewing of the measuring results.
Immediate change from grams to pounds in order to adapt measures to each recipe.
Long-lasting platform made of stainless steel, more resistant and durable. Easier cleaning.
Tare function to calculate easily the container's weight and offer exact measuring results.
Switch from the solid to the liquid measuring function by just pressing 1 button, fast and simple.
Energy-saving function thanks to its auto-on and auto-off, which allow its battery to last for much longer than the rest of conventional scales.
We Also Recommend