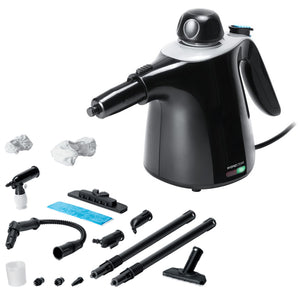 Steam Cleaner
SKU:
46132
1100W HYDROSTEAM 1040 ACTIVE & SOAP 
Model no: 5516
Brand: CECOTEC
ALU: 8435484055161
Color: BLACK
Cecotec – Steam Cleaner
HydroSteam 1040 Active & Soap
Brand: Cecotec
Model: 5516
Color: Black
Rated Power: 1100W
Tank Capacity: 450ml
Bar Pressure: 3.5bar
Steam Flow: 40g/min
Warranty: 12 Months Warranty
Features:
Large action radius of up to 3 meters.
Large 450 ml tank capacity to clean for longer.
You can clean for 10 minutes to achieve a perfect finish.
Includes a special soap attachment for flawless cleaning.
Rapid heating up to maximum temperature in 5 minutes.
Thanks to the high maximum working pressure of up to 3.5 bars, you can clean even the most stubborn dirt.
Steam cleaner with maximum power of up to 1100 W. Cleans and disinfects everything for a perfect finish.
Cleans and disinfects any surface faster thanks to the large continuous steam flow of 40 g / min that removes all dirt.
It adapts to any cleaning situation thanks to its extensive kit of 15 accessories that includes measuring cup, nylon brush, metal brush, small nozzle, curved nozzle, ironing brush, ironing brush cloth, floor brush mop, tubes extension cords, soap bottle, floor brush, floor brush cloth, floor nozzle, storage bag and hose.
We Also Recommend