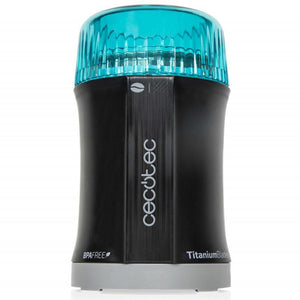 Spice Grinder
SKU:
44262
ELECTRIC 
Model no: 1502
Brand: CECOTEC
ALU: 8435484015028
Color: BLACK/BLUE
Cecotec – Spice Grinder
TitanMill 200
Brand: Cecotec
Model: 1502
Color: Black/Blue
Rated Power: 200 W
Rated Voltage: 220-240V
Rated Frequency: 50/60Hz
Warranty: 12 Months Warranty
Features:
Capacity: 50 g (10 cups of coffee).
BPA-free, plastic free from toxics.
Easy-to-clean brushed-steel container.
Compact grinder for coffee, spices and other foods
Efficient grinding, thin and quick thanks to its 200 W.
It can grind its whole tank full of coffee in just 30 seconds.
Titanium-coated blades that improve hardness and ensures long-lasting sharpness.
We Also Recommend