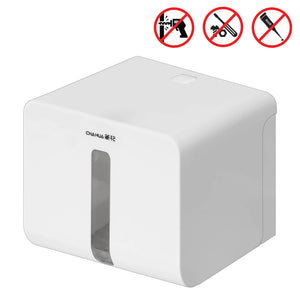 Tissue Dispenser
SKU:
46874
PLASTIC 
Model no: 255004
Brand: CHAHUA
ALU: 6921489042760
Color: WHITE
Chahua - Tissue Dispenser
Brand: Chahua
Model: 255004
Color: White
Tissue Roll Diameter: Max. 125mm
Material: ABS + PVC + PC Plastic
Dimensions (W x D x H): 17 x 14.2 x 14.4cm (6.7" x 5.6" x 5.7") 
Features:
Easy access.
Strong adhesive power.
It is made of solid and durable ABS material.
Relatively closed design prevents tissue from moisture.
Top surface is for makeshift stuffs, such as cell phone etc.
Most roll tissues fit the cartridge and maximum diameter 125mm.
NO TOOLS, NO DRILLING, NO SCREWS, NO HOLES: With the adhesive design, it becomes extremely easy to install.
We Also Recommend